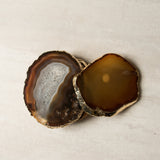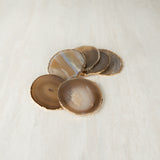 Taupe Agate Coaster (6 Pcs/set)
RM516.00 MYR
Our luxurious agate coasters are stylish yet keep your tables scratch-and-moisture-free. Polished to perfection to reveal naturally occurring patterns, they feature a decadent gold-plated rim for added opulence bringing a jewel-toned beauty to your trays, coffee tables or consoles. Available in rich colors or gorgeous earth tones, they make amazing gifts as well!
Dimensions: Approx. 4"diam.
Hand wash or wipe clean with damp cloth.
Note: Size and color may vary