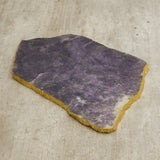 Agate Cheese Platter Large
RM783.00 MYR
Made from semi-precious stones, these Agate cheese platters have been carefully polished to reveal naturally occurring textural patterns gotten from ancient volcanic lava. With a smooth finish, these platters alongside the dramatically edged striations gives a beautiful backdrop for a display of cheese and canapes.
Each piece is one of a kind, precious metals highlight to enhance the natural contours of the stone bringing a little jewel-toned beauty to your trays, coffee tables and consoles. They are gorgeous and you know that already.
 Size: approx. 28'cms (Actual size will vary)
Hand wash or wipe clean with damp cloth.
NOTE: Due to the use of natural materials, each piece is unique and the size, shape, and pattern may vary from image shown